Establishing a GBIF Participant node - Africa 2019
Establishing a GBIF Participant node - Africa 2019
Trainers
Mélianie Raymond |
Maheva Bagard Laursen |
Laura Russell |
Andrew Rodrigues |
Pierre Radji |
Fatima Parker-Allie |
Jean Cossi Ganglo |
Rui Figueira |
Anne-Sophie Archambeau |
Carole Sinou |
Tim Hirsch |
Kyle Copas |
Joe Miller |
Innocent Akampurira |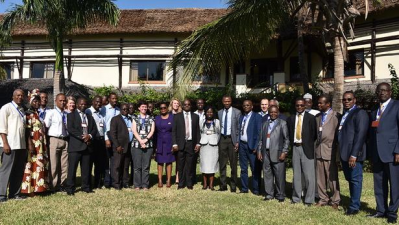 Biodiversity Information for Development (BID) is a multi-year programme funded by the European Union and led by the Global Biodiversity Information Facility (GBIF) with the aim of increasing the amount of biodiversity information available for use in scientific research and policymaking. More information about the programme is available at http://www.gbif.org/programme/bid
/ Le programme Biodiversity Information for Development (BID) est un programme pluri-annuel financé par l'Union Européenne et géré par le Système Mondial d'Information sur la Biodiversité (GBIF). Il a pour objectif l'augmentation de la quantité d'informations sur la biodiversité disponibles à des fins de recherche et de développement de politiques. De plus amples informations sur ce programme sont disponibles ici : http://www.gbif.org/programme/bid
This training is organized as part of the regional meetings concluding the first phase of the BID programme and aiming to identify regional priorities and actions to sustain the mobilization of biodiversity data for science and policy.
/ Cette formation fait partie de la réunion régionale clôturant la première phase du programme BID et a pour objectif l'identification des priorités et actions régionales nécessaires au soutien de la mobilisation des données de la biodiversité pour l'utilisation en science et en politique.
Through a series of practical exercises, we will support the BID project teams in the first stages of establishing a GBIF Participant node to sustain the activities started through the BID programme into the future.
/ À travers une série d'exercices pratiques, nous voulons soutenir les équipes de projets BID lors des premières étapes de la mise en place d'un point nodal GBIF soutenant les activités débutées pendant le programme BID et dans le futur.
Meet your trainers
/ Faites connaissance avec vos formateurs
The training has been prepared by an international group of node managers, with support from the GBIF Secretariat.
/ La formation a été préparée par un groupe international de gestionnaires de points nodaux, avec le soutien du Secrétariat GBIF.
 

 

Liam Lysaght (Ireland)
Fatima Parker-Allie (South Africa)
Anabela Plos (Argentina)
Raoufou Pierre Radji (Togo)
Carole Sinou (Canadensys)
Anders Telenius (Sweden)
Melianie Raymond (GBIF Secretariat)
Maheva Bagard Laursen (GBIF Secretariat)
Laura Russell (GBIF Secretariat) 
Meet your mentors
/ Faites connaissance avec vos mentors
A group of international mentors are providing support for this course, both onsite and by assisting with testing and translations.
/ Un groupe international de mentors apporte leur support lors de ce cours, à la fois sur place ou en aidant avec les tests et la traduction.
Katia Cezón (Spain)
Miguel Vega (Spain)
Dimitri Brosens (Belgium)
Dag Endresen (Norway)
Jean Cossi Ganglo (Benin)
Innocent Akampurira (Uganda)
Rui Figueira (Portugal)
Anne Sophie Archambeau (France)
Cristina Villaverde (Spain)
Niels Raes (Netherlands)
Download event programme
/ Téléchargement du programme de la formation
[UPDATE LINK TO CAMEROON PROGRAMME]
Translations
/ Traductions
Carole Sinou et Pierre Raoufou Radji ont contribué à la traduction de cette formation.
Acknowledgments / Remerciements
GBIF Spain has kindly allowed us to make use of the eLearning platform.
The BID programme is funded by the European Union and led by GBIF 
Icons used in this platform are made by Freepik from www.flaticon.com
/ GBIF Spain nous a cordialement octroyé l'autorisation d'utiliser la plateforme de eLearning. Le programme BID est financé par l'Union Européenne et est géré par le GBIF. Les icônes utilisées sur cette plateforme ont été réalisées par Freepik et sont disponibles sur www.flaticon.com